Brad and Jodene A.
Thank you so much for all of your work in finding and purchasing our new home. You guys were always there for us throughout the whole process. We would definitely recommend you to anybody who may be interested in finding a new home. It really says something about you when both the Seller of our new home and the Buyers of our previous home which they had you representing them. Thanks again.

Terry and Priscilla S.
Time goes by so incredibly fast. It's hard believe that we have already been in our beautiful home for a year and a half and that our little one will be turning one next month. Thank you so much again for helping us make our dreams come true
Randy and Jessica M.
Rob & Sandy, Thank you for all the hard work and time you gave us in buying our home. We're all unpacked and slowly getting settled in.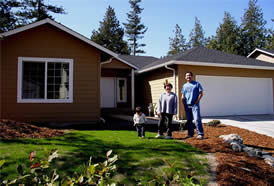 Bert, Desiree, and Luke
We LOVE our new home and the area in which we live. We feel so fortunate to have ended up here! Our whole experience with the purchase of our new house was a pleasant one thank you so much for your efforts"